Boss Laser Services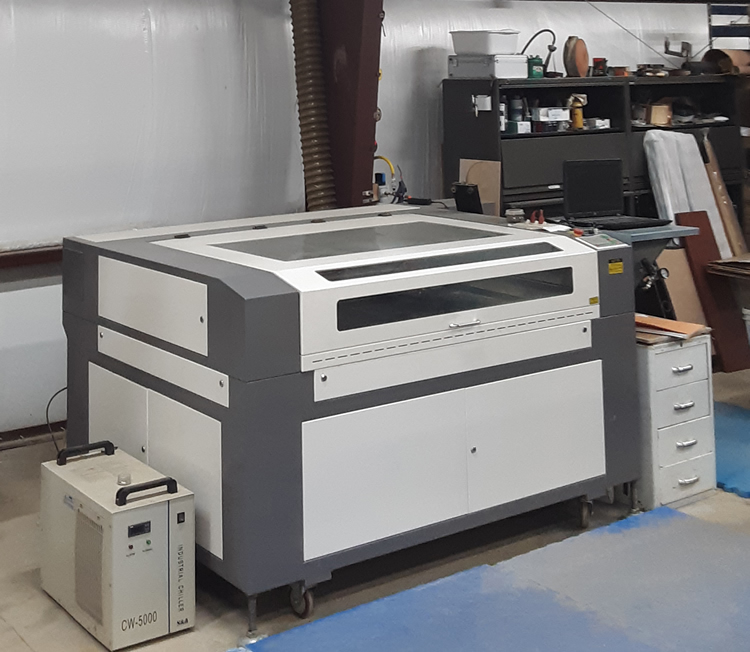 Our BOSS Laser Machine
We offer laser cutting, engraving and emblazoning on our BossLaser 150-watt laser featuring a 48 x 36 inch table with optional pass-thrus for oversized pieces.
Laser engraving and cutting is used on materials like wood, acrylic and tile. Emblazening and permanent embossing are options for metals including stainless steel, aluminum and titanium.
Most materials can be laser cut in extreme detail. NOTE: Metals require plasma cutting (see our CNC Plasma Cutting page for more information).
We always ask that you contact us before purchasing an item or gift intended for laser engraving. Many materials are not suited to this process due to the composition. We can assist you in selecting items that are best suited for engraving.
Laser Etching
Laser Etching is primarily used on glass and mirrors. Our laser has the ability to etch cylindrical items such as wine glasses on its rotary unit. There is a rotary set-up fee for these pieces as it is a time consuming process to assure the optimal results.
Rotary Engraving
Rotary engraving service is provided for thermal cups, mugs, glasses, canisters, baseball bats and all types of round or cylindrical items. We charge a minimal fee for the added time necessary to set-up each piece.
Laser Engraving
Laser Engraving is appropriate for most materials and produces highly detailed images, graphics and lettering. High quality photographs can be engraved on wood, granite, glass and certain metals. NOTE: Please check with us before purchasing an item to have engraved. Certain materials are not suited for engraving as dangerous gases can be produced in the engraving process. Many times we can source comparable items that are specifically designed for engraving and often at a comparable price point.
Laser Emblazoning
Laser Emblazoning uses various types and colors of marking sprays to create a chemical reaction resulting in a permanent marking of the piece. Emblazoning is appropriate for metals, glass and ceramics. It is different than etching and engraving and, sometimes referred to as CerMarking. Cermark is but one manufacturer of the marking sprays. Depending upon the size of each piece, a fee for the marking compound is added to the quote. Stainless steel and precious metals marking is processed with our HiTec fiber laser (see Fiber Laser Service page for more information)
Laser Cutting
Laser Cutting is available for wood, cork, leather, acrylic and specific natural cloths. The results are crisply detailed, precision cuts. Laser services are charged at a rate of equipment run-time minutes. (NOTE for metal cutting please see our Plasma, Shearing, or Fiber Laser service pages)
Below are photos of the model puzzles we create with the laser that have been completed. Custom engraving with company logo or a name can be added!

Here's a Video of a Recent Laser Job in Production