About Us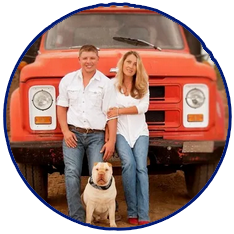 Adam & Lori Jasmer
Owners of WildMtn Innovations
Durango, Colorado
WildMtn Innovations (pronounced as 'Wild Mountain Innovations') is a small family-owned business located outside Durango, Colorado. We are Adam and Lori Jasmer and together operate WildMtn. We opened WildMtn in 2017 and worked for the first 2 years out of a small rental location. In 2019 construction of the 2400 sq. foot facility was completed and we happily spread out in it! We enjoy having our shop tucked away in the Colorado woods as no one is bothered by all of the unusual noises and smells created during our various production methods.
We have been married for 13 years and part of the Southwest Colorado community for much longer. We are proud of the life we have built and of WildMtn Innovations. The shop is located in the rural mountains of Southwest Colorado but is as accessible as your corner store. Email, phone, and shipping all work together to make the process easy and convenient.
Adam originates from Wisconsin, where his father taught him welding, laser work and many other vital skills that he uses every day. Adam and his brothers have always been creative, skilled and highly determined, which has served him well in business and in life. Lori was raised in Southwest Colorado and after several years away, returned to the mountains. She was introduced to all of these new technologies through Adam and the family. The skills fed directly into her creativity and love of re-purposing very nicely. Lori truly enjoys each project and especially enjoys the back-stories behind many of the projects which are heart-warming and uplifting.
WildMtn Innovations is operated on a base of integrity and family values. We both tend to be perfectionists and strive for perfect in every service and product we offer. We have a real passion for creating something wonderful from nothing but an idea. Everyone who has met us and done business with WildMtn is treated like family.
WildMtn Innovations is a member of the Durango Chamber of Commerce and Lori is a member of a local small business group identified as the Women's Idea Exchange. See her profile at www.womensideaexchange.com
We are Members of: